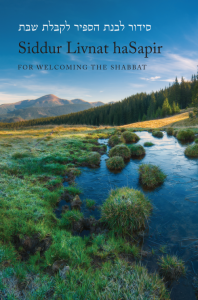 This siddur is 6×9″ and is printed in premium color on 80# gloss paper stock. It is available in premium paperback or casewrapped hardcover.
$36 USD (premium paperback), $40 USD (casewrapped hardcover)
Click the cover art to look inside.

Siddur Livnat HaSapir is a complete prayerbook (siddur) for welcoming the Shabbat on nearly all Friday evenings. This is the personal prayerbook of Aharon Varady, containing his idiosyncratic preferences in liturgical custom and aesthetic presentation. Aharon writes:
"This siddur, my first, is an attempt to build a bridge to the land beyond the River Sambatyon. In my translation I have sought to elevate and evoke the magical and mythical over any other critical literal or historical reading. Siddur Livnat haSapir also looks different compared to other siddurim. I only hope that whether one is impressed or dissatisfied, it will inspire those who discover it to craft their own siddur. I encourage others to craft a prayerbook containing the wisdom, understanding, and insight they have gleaned throughout their lives, to use as a tool to develop their creative and emotional intelligence, and to pass along to others this work in a way that others can adapt it to their own personal contexts."
Besides Minḥa for Erev Shabbat, Candle Lighting, Kabbalat Shabbat, Arvit, and Kiddush, Siddur Livnat HaSapir also contains many other prayers, rituals, and texts used to prepare one's entry into Shabbat: Perek Shira and Shir Ha-Shirim, meditations for immersing in a mikvah or shower, the blessing over children, the birkat hamazon for the first meal of the Shabbat, and many other treasures. See below for the full manuscript PDF shared under a Creative Commons Attribution-ShareAlike 4.0 International copyleft license.
Aharon Varady is the founding director of the Open Siddur Project. He specialized in experiential education at the William Davidson School of the Jewish Theological Seminary of America where he received a Masters degree in Jewish Education. He also holds a Masters degree in community planning from the University of Cincinnati. He is the managing editor of Dimus Parrhesia Press. More about him can be learned here and via his home page.
All proceeds benefit Aharon Varady's work on the Open Siddur Project and the Jewish Free Culture Society.