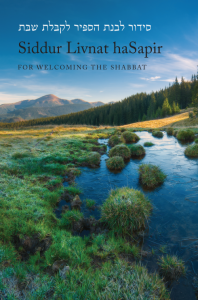 This siddur is 6×9″ and 218 pages.
USD $40 (hardcover, premium color on matte paper)
Please contact us to arrange for any personal customization.
Click the cover art to look inside.

Siddur Livnat HaSapir is a complete prayerbook (siddur) for welcoming the Shabbat on nearly all Friday evenings. Besides Minḥa for Erev Shabbat, Candle Lighting, Kabbalat Shabbat, Arvit, and Kiddush, Siddur Livnat HaSapir also contains many other prayers, rituals, and texts used to prepare one's entry into Shabbat: Perek Shira and Shir Ha-Shirim, meditations for immersing in a mikvah or shower, the blessing over children, the birkat hamazon for the first meal of the Shabbat, and many other treasures. The entire work is shared under a Creative Commons Attribution-ShareAlike 4.0 International copyleft license.
The siddur was compiled by Aharon N. Varady, the founding director of the Open Siddur Project and managing editor of Dimus Parrhesia Press. In his own words, "Siddur Livnat haSapir is a gateway for exploring the landscapes and lore of the Jewish imagination, a portal opened at the outset of the Shabbat." Varady specialized in experiential education at the William Davidson School of the Jewish Theological Seminary of America where, as a fellow in the Experiential Learning Initiative, he received a Masters degree in Jewish Education. He has taught as a Judaics specialist and storyteller at the Teva Learning Center, the Jewish Journey Project, and Eden Village Camp. More about him can be learned via his home page.
All proceeds from the sale of this siddur benefit Aharon Varady's work on the Open Siddur Project and the Jewish Free Culture Society for Open-source Judaism.